Program Description:

Overview
Faculty-led study abroad programs at UMSL generally take place over the summer term or winter break; however, semester programs are encouraged as well. Providing and leading a study abroad program includes the following general responsibilities for the faculty member:
Planning. The faculty member determines the details of the program: course descriptions, dates, accommodation, transportation and other arrangements, and, importantly, budget considerations.
Adherence to University processes and regulations. The University of Missouri-St. Louis and International Studies and Programs provide an institutional framework for implementing a study abroad program. This framework includes registration and financial aid procedures, insurance enrollment, fee payment requirements, scholarship determination, granting of credit, grading and faculty stipends.
Coordination and leadership. Once the program is in place the faculty has the responsibility of overseeing a group of university students in an unfamiliar locale. The faculty member may or may not be the primary instructor during the study abroad program but the faculty member is always the person responsible for the safety and well-being of each individual and the group as a whole.

WHY LEAD A STUDY ABROAD PROGRAM?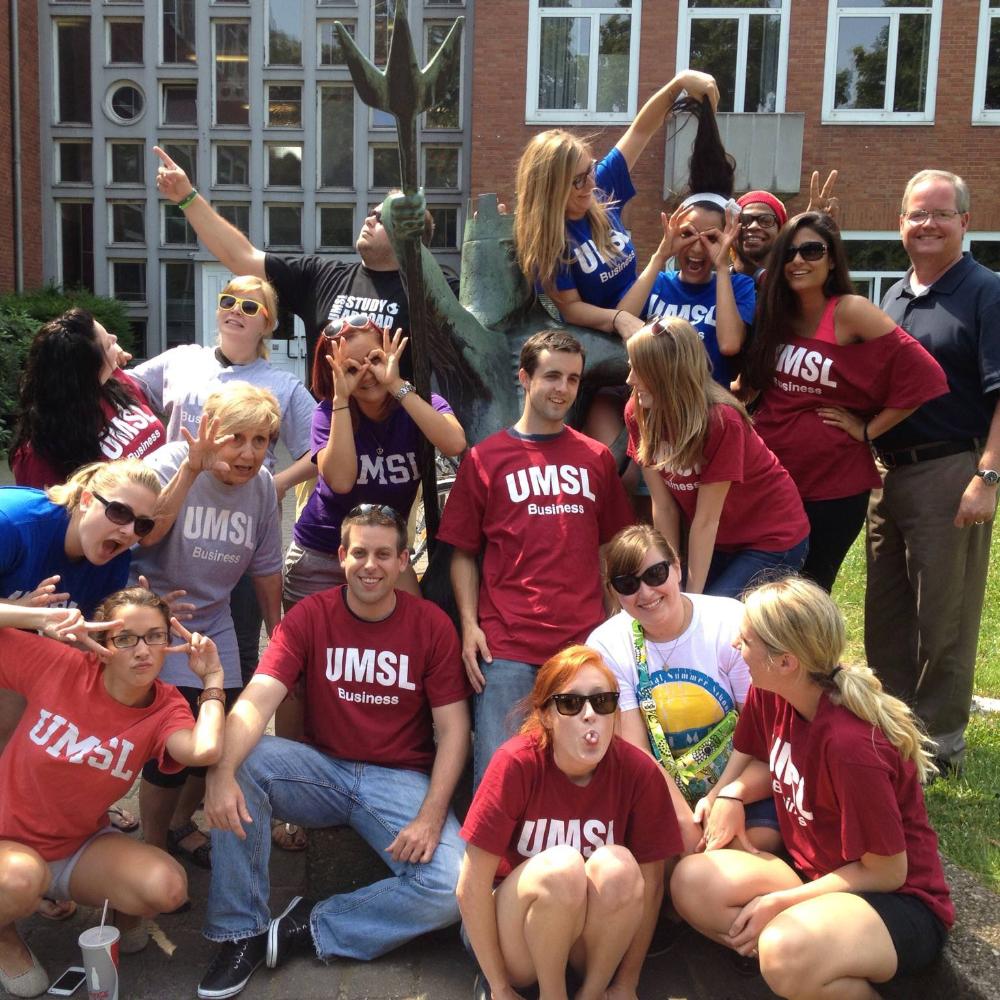 The advantages of a study abroad experience for participants are easy to enumerate: increased self-confidence, an awareness of and sensitivity to people and places outside the home society and an introduction to alternative ways of living and learning. The community and the country benefit as well from students going abroad to study. With increasing global interdependence, knowledge, and adeptness at dealing with non-Americans is crucial to business, politics and society. The United States is part of the world and must deal with global questions and concerns on a daily basis. Although there are disputes about the direction of these interactions, it is indisputable that successful negotiations between countries depend on knowledge of other cultures, customs, politics and society. Study abroad can be an inaugural step in obtaining this knowledge.

In the past decade study abroad programs have enabled increasing numbers of students to experience the challenges and opportunities of meeting and living in another culture. Once the domain of a select few students, the present-day study abroad scene encompasses diversity both in student population and locations visited. To a great extent the increase in study abroad participation results from an increasing variety of types of study abroad opportunities. No longer is the semester or academic "junior year" abroad the only option for a student wishing to study abroad.

Short-term, faculty-led programs are the fastest growing segment of the study abroad explosion. Usually lasting two to three weeks, these programs are well-suited for introducing participants to a world outside their own. This is especially important at a university such as UMSL where a large majority of students have time and/or financial constraints because of work and family responsibilities coupled with a limited background of travel. A faculty-led program may be the starting point for a student's awareness and appreciation of the complexity and diversity of our world.

A primary goal of faculty-led study abroad programs is to provide a meaningful academic experience utilizing the resources of a foreign city or country to maximize intercultural growth for each participant. The information in this booklet will assist faculty in planning and implementing a short-term program to realize this goal.
If you are interested in leading UMSL students on a study abroad program, please sign in here to access resources that will help you better understand the process of leading a study abroad program.

For more information, click on the "Apply Now" button above and log in using your SSO ID.

If you have questions, contact the Faculty-Led Study Abroad Coordinator, Nate Daugherty, at daughertyn@umsl.edu or 314-516-6497.
Dates / Deadlines:
Dates / Deadlines:

| Term | Year | App Deadline | Decision Date | Start Date | End Date |
| --- | --- | --- | --- | --- | --- |
| Resources | 2018 | 12/31/2018 | 12/31/2018 | TBA | TBA |